How it started:
The first known ice climbing competition was organized in Courmayeur on the Brenva glacier in the year 1912. Maybe later there were some more events around the world and if somebody knows of any pls. send me mail about it.
Russia
Ice climbing competitions in Russia (at that time Soviet union) were held each winter since 1970. There were three disciplines: difficulty, speed and speed climbing of a longer route (100+m) by roped partys where the first climbing on a rope changed every 40m. At the end of a season the winner of each of the disciplines was announced. During the winter 1996/1997 the Russiam team participated on a Courchevel competition in France and at that time they adopted the French rules for difficulty also for their events.
Courchevel
Video from Courchevel event 1998

The magnificent 40m high tower in Courchevel France was the synonime for difficulty ice climbing events in Europe from 1995 till 2000 when a huge piece of ice fell down just a few hours before the event started. The main rule was to climb as high as possible using as little hits as possible having the time limited between 8 and 14 minutes.
America
There were and still are several competitions in North America. The most famous were Winter X games ice climbing events (speed and difficulty), but after 1999 ice climbing has been excluded from Winter X games. Another good event was the IWC competition in Quebec Canada that hosted all the best competitors from the World. There are some other ice climbing events that also include a kind of competitions, but with their own regulation. One of the most known is the Ouray ice gathering where also competitions are held.
Slovenija
Bohinj speed race (50m)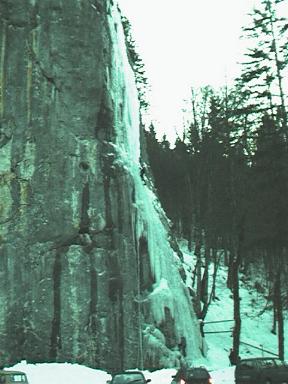 From 1994 till 1999 we had duel speed competitions on a natural rock in Bohinj and it used to be the main "ice climber event" in Slovenija. Last years there were problems with ice as the climate is (obviously) warming up. Since 2000 Solcava hosted difficulty and speed competitions while for the season 2002/2003 the event "Slovenian cup" took place in 3 different locations. Slovenian cup has now been done every year in speed and difficulty. In 2009 Slovenija hosted Ice world cup event in Mojstrana
IWC
Competition in Cortina 2000

In the year 1999 the competitions in Europe were organized to a kind of schedule (not yet IWC) in Courchevel, Cortina, Pitztal and Kirov. The first common rules appeared in 1998 while IWC appeared in 2000 organized by the company Hohenwerkstadt G.m.b.h. They organized the event till the season 2002 when the whole organization has been run by ICCIC which in spring 2002 become a member of the UIAA. After the year 2003 the World cup disappeared till 2006 when it took place in 5 locations in Europe.
Video from Pitztal Ice world cup 2000 - A MUST TO SEE for the ones that did not have a chance to be with this sport from the early days!
Ice on steel "Alpenpokal"
Tower in Fieberbrunn

During the winter 2001/2002 there were 4 difficulty competitions on towers in Austria and Italy organized as Alpenpokal (Kotshach-Mauthen, Welsberg, Fieberbrunn)
The future...
The season 2003/2004 started with no official Ice world cup, just some good international competitions and some gatherings all around the world. Since 2005/6 another series of World cup competitions has been organized under UIAA
From 2009 on the Ice climbing World cup grows and becoms real sport. We aim at Olympic games, but we have lost the spirit of early days...