Not yet finished!!!
When you first see the 1755m high Spitzkoppe, one might expect a wonderful mountain to climb
But when you touch the loose 200 milion years old granite, start looking for
any kind of cracks that would let you put some security and when the hot wind dries you, then you realize that climbing here is tuff and dangerous. The first layer of the yellow granite (about 2-3 cm) is so loose that even by footpress the surface turns into a rollbearing that helps you slid down the wall! Climbing without spit protection (long spits) is not very advisable.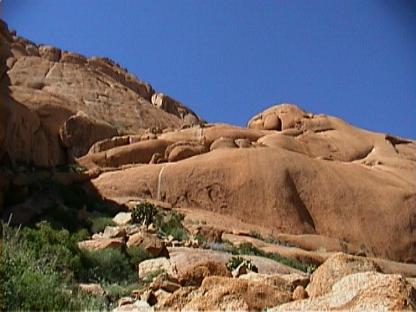 There is an entrance fee to be paid when entering the Spitzkoppe national park, but you may camp anywhere and believe me, there are many nice places and except on Sundays you see almost nobody around. At the entrance controlled by the Damara tribe, one can buy water and beer or get a hut to overnight. The nearest city is about 30 km away and there you can buy the food.